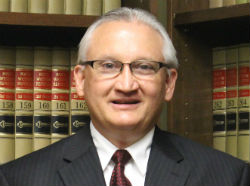 Email
Practice Areas
Adoption, Bankruptcy, and Family Law
Courts Admitted to
United States District Court, Southern District, Iowa
United States District Court, Nebraska
Supreme Court of Iowa
Supreme Court of Nebraska
Law School
Creighton University School of Law, J.D., cum laude, 1983
College
Iowa State University, 1980
Member
Iowa State Bar Association
Nebraska State Bar Association
Pottawattamie County Bar Association
Other
Mr. Springer is a life-long resident of Council Bluffs and is active in the local community. He is involved with the Pottawattamie County development committee of the Good News Jail and Ministry. Norm and his family are active in the Christ Community Church in Omaha, Nebraska.
Request a free consultation
If you need an attorney, contact our firm. Our experienced, tenacious attorneys will help you achieve the best possible outcome in your case.
McGinn Law Firm
20 North 16th St. Council Bluffs, IA 51501
mmsn@mcginnlawfirm.com
(712) 227-5885