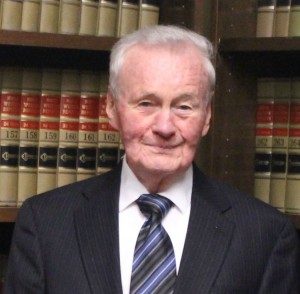 Practice Areas:
Wills and Estates, Real Estate and Tax
Courts Admitted to:
United States District Court, Southern District, Iowa
United States District Court, Nebraska
Supreme Court of Iowa
Supreme Court of Nebraska
Law School:
Creighton University School of Law, J.D., 1957
College:
Member:
Iowa State Bar Association
Nebraska State Bar Association
Pottawattamie County Bar Association
Other:
A life-long resident of Council Bluffs, Mr. McGinn is the son of founders Albert and Kathleen McGinn. Mr. McGinn is a Veteran of the Korean War, where he served from 1952-1954. Joe is involved in numerous civic activities including: Past President of Pottawattamie County Bar Association, Past President of Saint Albert Catholic Schools Education Foundation, Past President of Council Bluffs Area Catholic Education System, recipient of Saint Albert Freddy Falcon Award, Third and Fourth Degree Knights of Columbus, member Alzheimer's Association Southwest Iowa Advisory Council, and member Ancient Order of Hibernians.
Joe and his wife Mary Lou attend Saint Peter's Catholic Church in Council Bluffs.
Wills starting at $300
If you need an attorney, contact our firm. Our experienced, tenacious attorneys will help you achieve the best possible outcome in your case.
Request Free Consultation